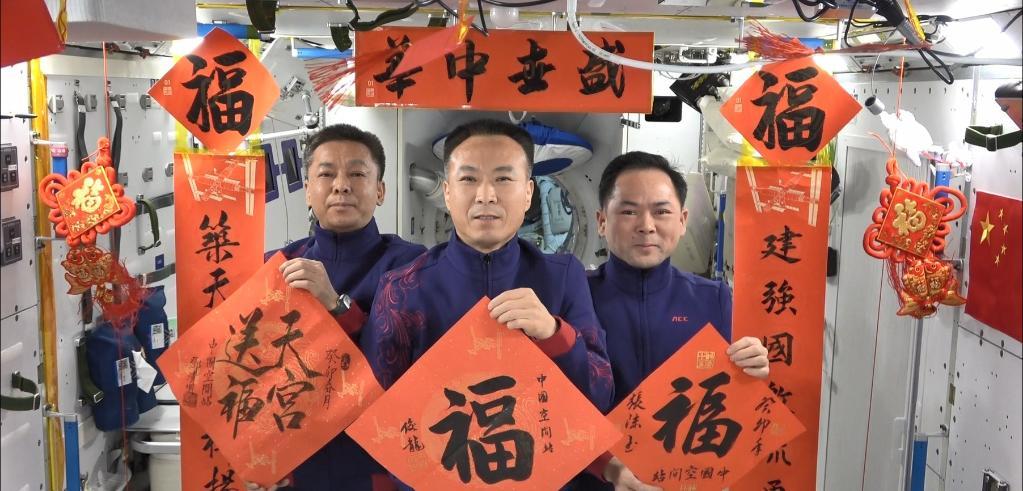 This video snapshot shows the Shenzhou-15 astronauts Fei Junlong, Deng Qingming and Zhang Lu sending their Spring Festival greetings from
China's Tiangong space station in a video released by the China Manned Space Agency on New Year's Eve. (Xinhua)
A special exhibition of space-related photographs is being held on China's Tiangong space station, orbiting about 400 km above Earth, as a New Year gift for the Spring Festival.
The Shenzhou-15 astronauts Fei Junlong, Deng Qingming and Zhang Lu showcased 21 photographs of the orbiting Chinese space station captured from Earth, featuring various splendid moments and unique angles.
The photos were among those collected from various sources in a project called "Global Lens on Tiangong" that began in November 2021. The project has attracted widespread attention from professional photographers, astronomy enthusiasts, space professionals and youngsters, producing more than 10,000 photos showing the Chinese space station in action.
The photos displayed in the Tiangong space station were launched together with the Shenzhou-15 mission on Nov. 29 last year.
The Shenzhou-15 mission is aimed at wrapping up the final stage of space station construction and starting the first stage of its application and development.