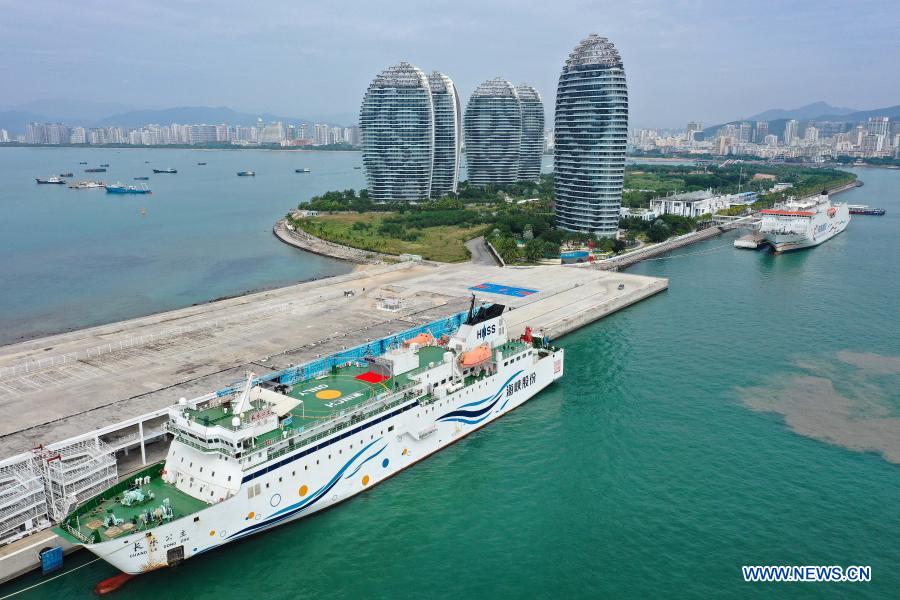 Aerial photo taken on Dec. 8, 2020 shows two cruise ships, the Changle Gongzhu (or Princess Changle, L) and the Nanhai Dream at
a port in Sanya, south China's Hainan Province. [Photo/Xinhua]

China's cruise tourism market is expected to revive this year, supported by the country's optimized COVID-19 measures.
For international arrivals, starting Wednesday, Shanghai resumed visa-free entry for overseas cruise tour groups. In addition, in the 15 days after entering the metropolis, vessels carrying the groups can visit other Chinese coastal ports valid for cruise docking and passengers can go ashore to explore the areas during docking.
For domestic travelers, many domestic travel agencies and cruise line operators reported that all tickets for their cruise itineraries this year have been sold out.
Global cruise tourism demand is also booming, said the Cruise Lines International Association (CLIA), the world's largest trade association in the cruise sector.
According to a recent CLIA survey of 4,500 travelers, 91 percent of respondents who previously had taken a cruise said they intend to take such trips again, while 72 percent of those who have never taken a cruise said they were open to taking one.
China is now second only to the United States in terms of the number of cruise travelers. With a view of the recent massive sales growth, the Chinese cruise market has the potential to become the world's largest by 2030, according to China Merchants Viking Cruises.
The China Merchants Shekou Yidun cruise ship, carrying nearly 100 tourism industry representatives, set sail from Shenzhen's Shekou Port in Guangdong province last month.
The ship visited Sanya of Hainan province before returning to Shenzhen after completing an eight-day itinerary.
"There has been an increasing number of tourists taking cruises to Sanya, as it is a leisurely, elegant and luxurious way to travel," said Wang Ying, a representative of the Sanya Tourism Promotion Board, during a tourism promotional conference held on the ship.
"Taking a cruise to Sanya is a brand new experience for me," said Li Yanmei, a passenger. "I'll consider bringing other family members to experience this relaxing and fun tour next time."
This year, Sanya's cruise market has shown a strong recovery. According to the Sanya Maritime Safety Administration, among travelers visiting Sanya during the Spring Festival holiday from Jan 7 to Feb 15, there were more than 16,000 cruise passengers, a year-on-year increase of 25.24 percent.
Sanya will join hands with neighboring cities and the Hong Kong and Macao special administrative regions to explore multi-destination cruise tour products to share resources, construct a whole chain for the cruise industry and develop cruise-based industrial clusters, according to the Sanya Tourism Promotion Board.
With such efforts, China's cruise tourism sector is expected to gain more traction.
Chen Yin, president of China Tourism Group, revealed earlier this month that China Travel Cruises, a subsidiary of the group, has joined hands with COSCO Shipping Group and China Communications Construction Co to resume the Nanhai Dream cruise ship sailing for the Xisha Islands in the South China Sea.
"Promoting the in-depth integration of transportation and tourism and enriching the products of the Xisha passenger liners can better serve the construction of the Hainan Free Trade Port," said Wang Xianjin, vice-president and chief engineer of the China Academy of Transportation Sciences, which is affiliated with the Ministry of Transport.
Hu Defang, chairman of Bohai Shipyard Group Co, said he believes that the future of China's international cruise tourism industry is promising.
"More international cruise routes should be established as soon as possible to improve the supply capacity and service level of cruise tourism products and form a diverse cruise tourism consumption that combines the Yangtze River, China's coastal areas and transnational waters," Hu said.