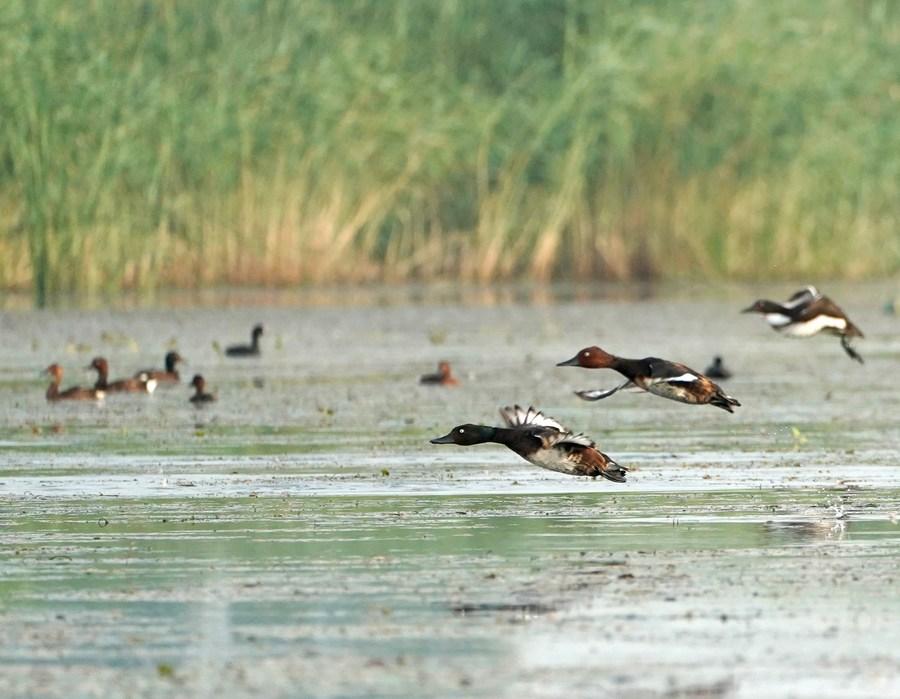 Photo taken on July 22, 2022 shows Baer's pochards and white-eyed pochards in Baiyangdian Lake in Xiong'an New
Area, north China's Hebei Province. [Photo/Xinhua]
China's efforts to protect habitats and biodiversity have contributed to the increase in the population of many endangered species, the National Forestry and Grassland Administration said on Monday, the 23rd International Day for Biological Diversity.
The day falls on May 22 annually, and this year's theme is "From Agreement to Action: Build Back Biodiversity".
The administration said that since the beginning of the 14th Five-Year Plan period (2021-25), more than 300 rare and endangered wildlife and plant species, including Siberian tigers and orchids, have seen their numbers rise.
Over the years, the distribution area of the Siberian tiger has expanded from the Changbai Mountains to the Greater and Lesser Hinggan Mountains, and there is a wild population of around 60.
Meanwhile, the distribution area of the crested ibis has expanded from three to seven provinces, with a wild population of more than 7,000, the administration said.
It added that the number of Qiaojia pine trees has also grown from 34 in the 1990s to more than 3,000.
To further protect these endangered species, China aims to establish an extensive system of national parks across the country that will cover more than 110 million hectares, about 10.3 percent of the country's land area, the administration said.
By 2025, the country aims to protect 75 percent of national key terrestrial endangered wildlife species and 80 percent of national key terrestrial endangered plant species, the administration said.
Such an example of habitat conservation can be found at Wuyishan National Park, located in Fujian and Jiangxi provinces.
The park, covering an area of about 128,000 hectares and home to more than 10,000 species of flora and fauna, has found a way to maintain harmony between local residents and the area's wildlife.
The park has dedicated 10 percent of its area to eco-friendly industries, while the remaining 90 percent is devoted to protecting biodiversity.
This approach has led to the growth of green industries, such as tea production, tourism and bamboo cultivation, leading to economic growth while also conserving the environment, said the park's management bureau.
Local residents have benefited from this model by engaging in eco-friendly tourism and conservation work, and the park has created job opportunities for them. More than 1,600 villagers are employed in positions including hiking tour guides and park maintenance staff.
These conservation efforts have also had a positive influence on the surrounding communities.
Zhan Jianying, a resident of Aotou village in the hinterland of the park, said that "without these good mountains and waters, we wouldn't have such good tea. If we want to continue to enjoy the benefits of these natural resources, we must protect them".