China's Olympic champion Zhang Yufei dominated the women's 100m butterfly final, blitzing to a new Games record of 55.86 seconds, while South Korean star Hwang
Sun-woo captured gold in the men's 200m freestyle on Wednesday at the Hangzhou Asian Games.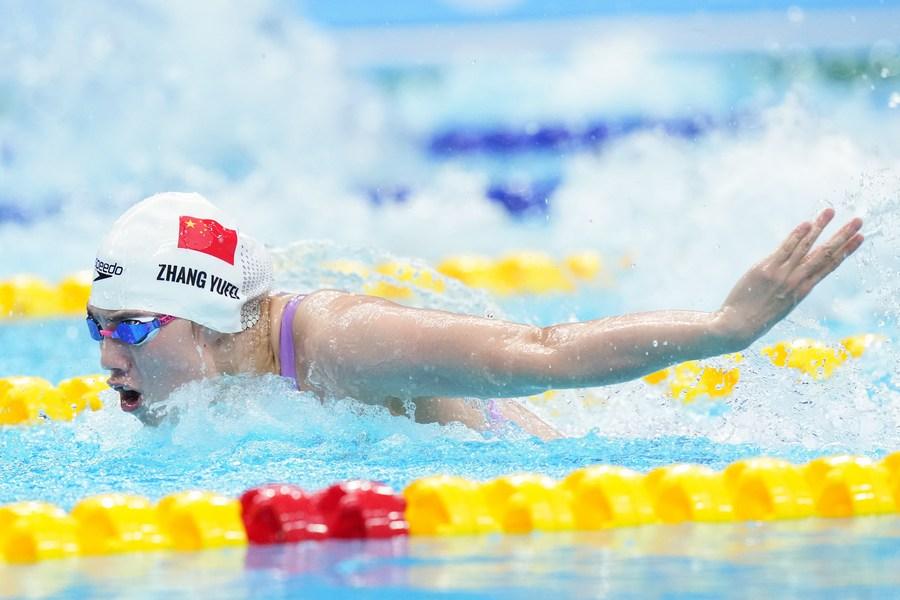 Zhang Yufei of China competes during the Women's 100m Butterfly Final of Swimming at the 19th Asian Games in Hangzhou, east China's Zhejiang Province, Sept. 27, 2023. (Xinhua/Huang Zongzhi)
Though Zhang's 100m butterfly victory marked the fastest time in the world this year, she was not satisfied.
"It's not a time I wanted," said the 25-year-old, who has already claimed the 200m fly title in Hangzhou. "I felt bad, actually. I wanted to be close to the world record if I cannot break it yet."
Zhang's time is faster than her winning mark at the Fukuoka worlds in July, but still behind her own Asian record 55.62, which was set in 2020.
Japan's Ai Soma won silver in 57.57, while another Chinese swimmer Wang Yichun came third in 57.83. Japan's Rikako Ikee, who won six gold medals at the last Asian Games, ranked fifth.
In the women's 100m backstroke, Wan Letian led a 1-2 Chinese finish with compatriot Wang Xue'er, clocking 59.38 for the gold. Wang timed 59.52 for the silver. South Korean Lee Eunji came third in 1:00.03.
In other races, 200m individual medley winner Yu Yiting added a 400m IM gold medal with a time of 4:35.44. China also won the mixed 4x100m medley relay with a star quartet of Xu Jiayu, Qin Haiyang, Zhang Yufei and Yang Junxuan. They dominated the relay with a new Asian record time of 3:37.73. Japan and South Korea came second and third respectively.
Hwang, runner-up in the men's 100m freestyle, stormed to victory in the men's 200m freestyle in 1:44.40, the world third best time of the year. Hwang also helped South Korea secure the men's 4x200m freestyle relay title Monday.
China's Pan Zhanle trailed in 1:45.28 to take silver, while Hwang's teammate, Lee Ho-joon, grabbed bronze at 1:45.56.
"I feel happy for him (Hwang)," said Pan, 100m free winner at the Asiad. "He has more experiences than me in the 200m while I think I am better in the 100m. I will focus on my 400m free and the relays."
Japanese swimmers finished 1-2 in the women's 100m breaststroke, with Aoki Reona winning in 1:06.81, followed by Suzuki Satomi in 1:06.95. China's Yang Chang was third in 1:07.01.
Japan also claimed the men's 100m butterfly gold as Matsumoto Katsuhiro outpaced China's Wang Changhao with a last burst, touching home in 51.13. Wang was second in 51.24.