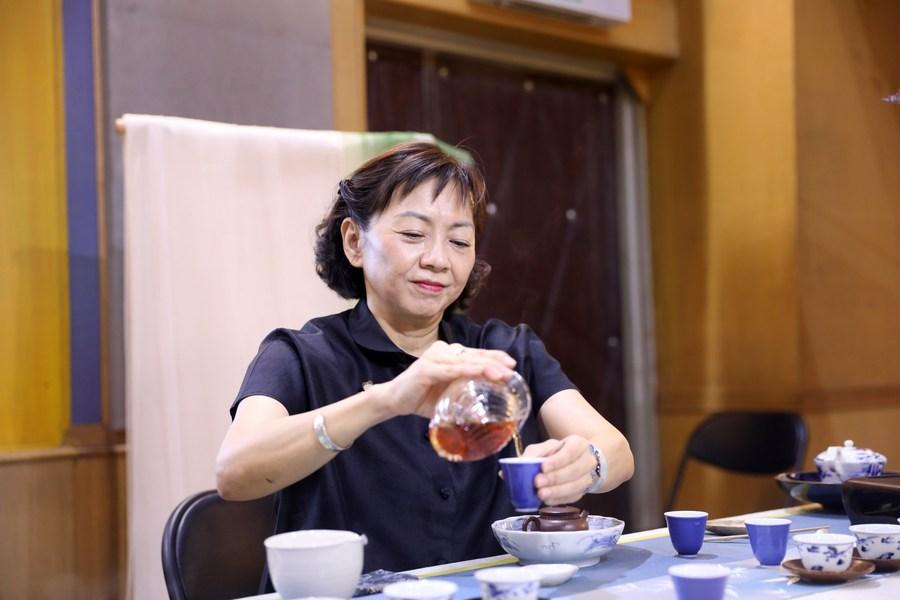 A Chinese instructor displays tea culture during a cultural event in Cairo, Egypt, on Nov. 14, 2023. (Xinhua/Ahmed Gomaa)
A just-concluded immersive event
promoting Chinese tea and incense culture has impressed Egyptian visitors in the capital.
Hosted by the Chinese Cultural Center in Cairo, the three-day Chinese Tea and Incense Salon concluding Tuesday offered a themed lecture, tea-tasting, and a demonstration of incense-burning and tea-making to help the locals know better about two iconic elements of the Chinese traditional lifestyle.
The event featured "the two most important products of communication for Sino-Arab civilizations on the ancient Silk Road ... and symbols of the Chinese-Arab friendships," said Yang Ronghao, director of the center and cultural counselor of the Chinese Embassy in Egypt.
The discovery and use of tea among the Chinese people is said to have started some 4,700 years ago. As a national beverage with numerous varieties, tea is involved in every facet of the Chinese way of life, not only for its rich aroma and flavors but an elegant manner and spiritual enjoyment.
"We very much enjoyed today's rich activities. The atmosphere made me feel that I was truly in China," said Yara Ismail, a Chinese language instructor at Cairo University.
"Tea is a friend of all Chinese, they drink at all times and places ... many Chinese literary works and poems talk about tea as an essential part of Chinese culture," Ismail added.
More than 120 people including Egyptian scholars, college teachers, and students, as well as Chinese language and culture enthusiasts, participated in the event.