Editor's notes: Regular exercise is an essential part of a healthy lifestyle. But the outbreak of the novel coronavirus has kept millions of people from partaking in outdoor activities since late January. Since then, indoor workouts have become an important way to keep healthy and protect against illness, especially during a critical time like this.
In this series, we're showing some of the most popular traditional Chinese indoor exercises which have been practiced for centuries, and proven effective for health and fitness.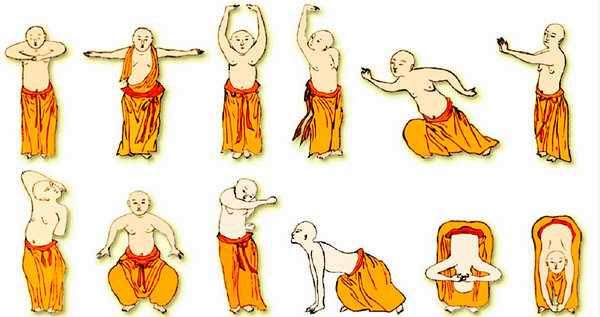 This photo shows an illustrated explanation of the Shaolin
-style twelve-stance Yi Jin Jing
qigong exercise in standing posture. There exist other versions of Yi Jin Jing
in sitting postures. Both are easy to learn and suitable for the office, the home and even a hospital ward. [Photo/tmall.com]
Yi Jin Jing
Yi Jin Jing
, literally meaning "muscle-and-tendon-transforming sutra", is a traditional qigong exercise most people first get to know through wuxia (martial arts) fiction by Hong Kong novelist Jin Yong , aka Louis Cha Leung-Yung.
He used the kung fu sutra in the plots of two of his well-received Wuxia novels: Xiao Ao Jiang Hu, aka Smiling Proud Wanderer, and Tian Long Ba Bu, aka Demi-Gods and Semi Devils.
Both have been adapted into TV and film hits several times in Hong Kong and the Chinese mainland since the late 1980s.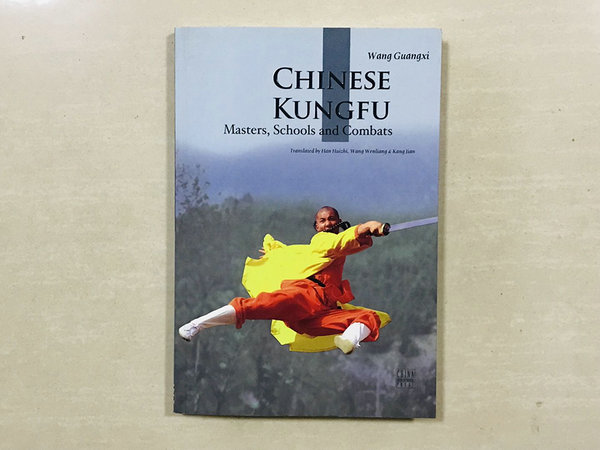 The cover of an English book entitled Chinese Kung Fu, featuring a kung fu fighter from Shaolin
Temple, a Buddhist institution known as a kung fu mecca thanks to Jin Yong's historical kung fu novels. [Photo by Zhu Linyong/chinadaily.com.cn]
The Yi Jin Jing
exercise is widely considered, by kung fu masters and swordsmen in the fictional kung fu world, one of the two fiercest techniques of the Shaolin
sect, alongside the Xi Sui Jing (Marrow-Cleansing Sutra).
Proper practice of the skills, it is said, even in a short period of time, can turn a normal person into a grandmaster of martial arts. If one completes all nine stages of attainment of the Yi Jin Jing
sutra, he or she would be utterly unbeatable in the kung fu world.
Of course, the author exaggerated and mystified the power of the exercise in his storytelling. But the manuscripts were not fabrications—the two sutras really existed.
It's a pity only Yi Jin Jing
has survived with full text and complete illustrations. Some claim to have retrieved the basic techniques of Xi Sui Jing by piecing together fragmented information from various classical texts, but their efforts have yet to be widely accepted.
A little bit more complex and physically challenging than Ba Duan Jin, the Yi Jin Jing
exercise doesn't require much space or time either.
With 12 well-designed sequences of movement, the Yi Jin Jing
exercise is widely practiced for building up one's stamina and inner strength, and promoting one's perseverance and peak performances both physically and mentally.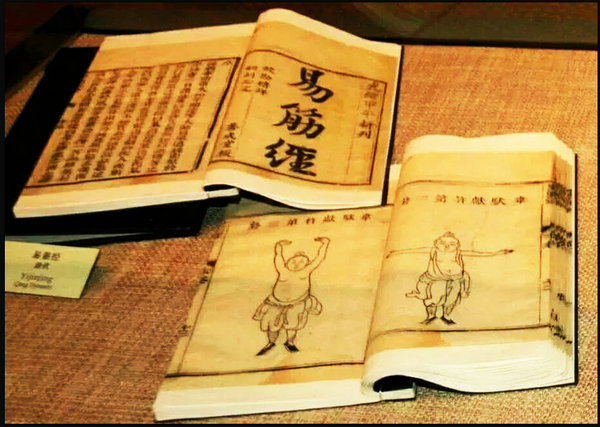 This photo shows a set of reproduced Yi Jin Jing
course books in the traditional format. [Photo/kongfz.com]
In ancient times, average people did the Yi Jin Jing
exercise for health and longevity. But kung fu practitioners do it in different and more difficult ways, hoping to hugely enhance their martial capabilities.
For example, when it comes to breathing, a normal practitioner, especially a beginner, would be advised to take a safe and comfortable approach: relax the body and limbs, and breathe naturally during the whole exercise.
But kung fu practitioners would use a reverse deep breathing technique when doing Yi Jin Jing
. They would inhale deeply, then hold their breath while trying to stretch certain muscles and tendons, and in the end they would relax and exhale very slowly.
If a normal person does the exercise properly, he or she feels refreshed and energized afterwards. If one feels tired or exhausted, or even uncomfortable, he or she must stop practicing immediately or consult with a qualified coach.
In recent years, the Yi Jin Jing
exercise has gained traction among Chinese of all ages, thanks to Jin Yong's wuxia novels and the Shaolin
Temple in Central China's Henan province, which has promoted Buddhist kung fu techniques,including Yi Jin Jing
, vigorously at home and abroad.
There are more than 60 types of Yi Jin Jing
exercises circulating in contemporary China, differing in lengths, stances and postures. Thousands of health and fitness clubs in the country have been teaching classical techniques,Yi Jin Jing
being the most favored course.
In 2016, the Tiantai county people's government in East China's Zhejiang province officially declared Pingqiao, a mountainous town under its jurisdiction, a "YiJin Jing Township", with Zhangjiajing village at its center.
It is widely believed that Zong Heng, a Ming Dynasty (1368-1644) Taoist priest, invented the Taoist version of the Yi Jin Jing
qigong exercise while he lived in a cave on Mt. Zining, where Zhangjiajing village is located.
At least 30,000 local residents in and around the "Yi Jin Jing
Township" have learned to perform the so-called Zining Yi Jin Jing
qigong exercise. They put on massive performances for tourists.
Yi Jin Jing
training courses, coupled with hillside camping and sightseeing and local delicacies, have brought prosperity to the previously poverty-stricken county, local newspapers reported.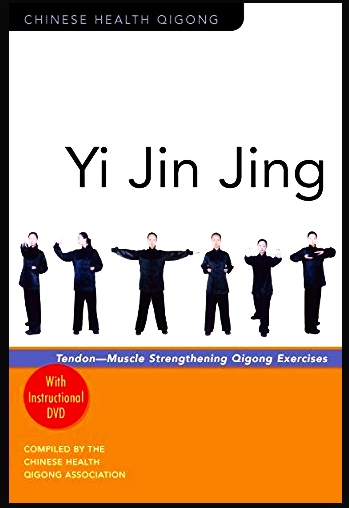 The English edition of a coursebook about the Yi Jin Jing
exercise, compiled by the China Health Qigong Association.[Photo/amazon.com]
Besides the popular Buddhist and Taoist versions, there is also a modified version of Yi Jin Jing
, created by the Beijing-based China Health Qigong Association.
To promote Yi Jin Jing
nationwide and internationally among regular people, seniors in particular, the association has compiled a series of books about classic Chinese techniques, including Ba DuanJin (Eight-piece-brocade), Wu Qin Xi (Five-animals-exercise), Liu ZiJue (Six-healing-sounds), and Yi Jin Jing
, in both Chinese and English since 2003.
The English edition of the Yi Jin Jing
exercise, compiled by the China Health Qigong Association, is available in major online bookstores, along with DVDs.
In addition, some Yi Jin Jing
enthusiasts and coaches upload performances or brief tutorials onto video streaming platforms such as YouTube for free viewing.