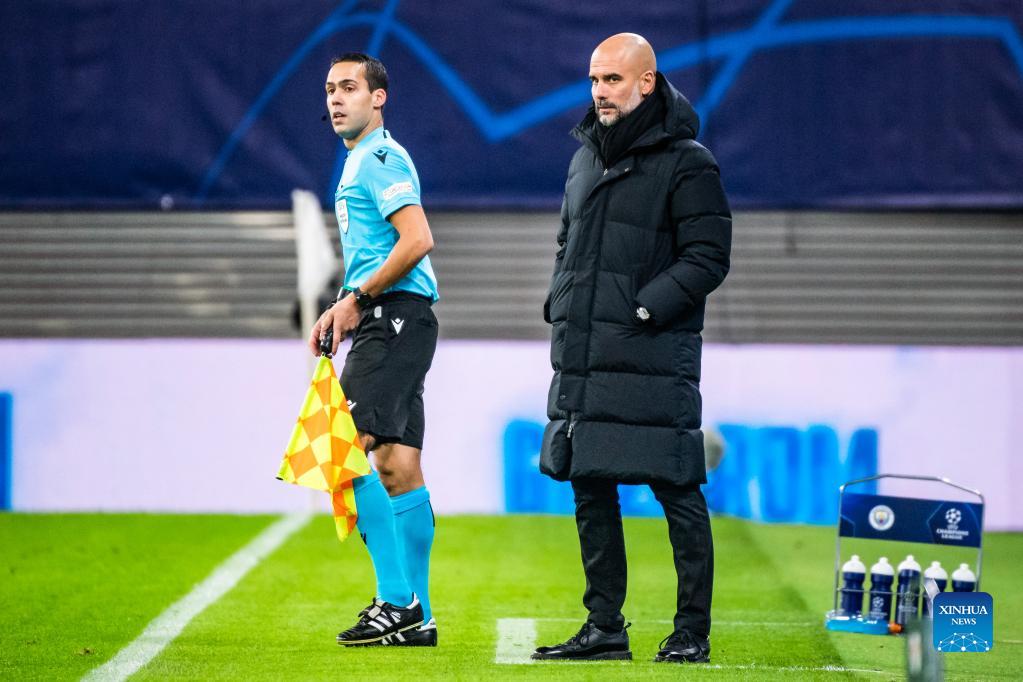 of Manchester City reacts during a UEFA Champions League group A match between RB Leipzig of Germany and Manchester City of England in Leipzig, Gremany, on Dec. 7, 2021. (Photo by Kevin Voigt/Xinhua)"/>
Pep Guardiola may have led Manchester City to four Premier League titles, one FA Cup and the League Cup, but on Monday he insisted that his time at the club would be judged on whether he can win the Champions League title.

The closest title hope for Manchester City was when they lost the final to Chelsea in 2021. Last season, they were the victims of a miraculous late recovery from Real Madrid as they lost in the semifinals.
City entertain RB Leipzig on Tuesday in the return leg of their last-16 tie after a 1-1 draw in Germany in the first leg and the coach admitted the pressure was on to finally bring European glory to the club.
"Yes, that doesn't mean I agree with that, but absolutely I will be judged for this competition," he said in his game press conference.
Guardiola added that the pressure was not just from supporters and the press, but the club itself.
"Since day one when I arrived here in the first game in the Champions League, they asked me when I was sitting here for the first time: are you here to win the Champions League?" he explained.
The coach commented that if he was at (14 times winners) "Real Madrid, I could understand. But here, I don't know. But I accept it. It's not going to change."
Next weekend is the last round of football before the first international break of the year, and Guardiola admitted beating Leipzig would be positive both to continue in Europe and also for Premier League.
"It's really important. Not just for a better international break, for the fact to be alive in the last two months of the season in the Premier League and Europe, to be close to (Premier League leaders) Arsenal, it will be good," he concluded.