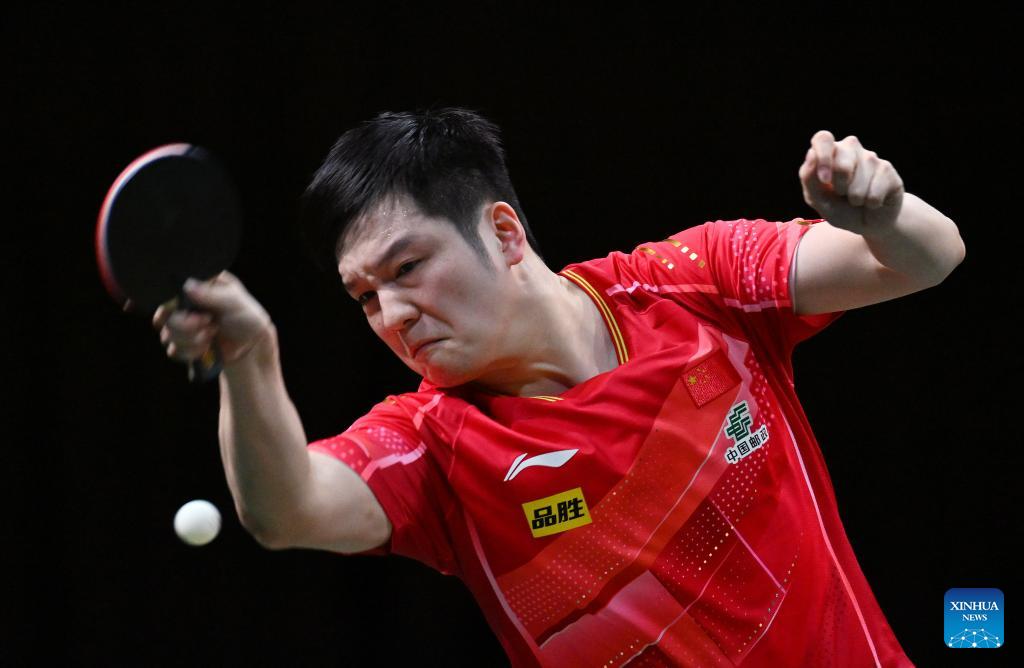 Fan Zhendong of China hits a return during the men's singles round
of 64 match against Panagiotis Gionis of Greece at 2023 ITTF Table Tennis World Championships Finals in Durban, South Africa, May 22, 2023. (Xinhua/Tao Xiyi)
China's top-ranked Fan Zhendong and Sun Yingsha successfully began their ITTF World Table Tennis Championships (WTTC) Finals campaign on Monday.
After receiving a first-round bye as the tournament's top seeds in men's and women's singles, Fan overcame Greek veteran Panagiotis Gionis with a score of 4-1, while Sun secured a 4-0 victory against Amelie Solja of Austria.
Following a dominant start with two games leading 11-4, 11-4, Fan experienced stiff competition in the third game, losing 11-9 to the seasoned 43-year-old opponent, only to regain his composure, winning 11-2, 11-8 in the subsequent two games and advancing to the last 32.
"It's been a while since we last competed, so preparation is crucial on my end. Regardless of how well you prepare, you need to be able to handle spins," Fan commented.
Olympic champion Ma Long achieved a straight-game victory over Canadian Eugene Wang, despite facing challenges in his narrow 15-13 first-game victory. He never conceded more than six points in each of the following three games.
"I committed unforced errors in the first game, which made things tough. Thankfully, I didn't cave under pressure and continued to battle for every point," Ma stated, the champion of three consecutive World Championships from 2015 to 2019.
Liang Jingkun started strong in his match against Japan's Maharu Yoshimura, securing a two-game lead at 11-5, 11-5. In the third game, however, Yoshimura demonstrated resilience, overcoming a 7-10 deficit with a five-point streak. After an 11-4 victory in the fourth game, Liang rallied from 1-7 down in the fifth to win 14-12.
"Losing a game isn't detrimental, as it prepares me for tougher matches ahead," Liang noted.
Aspiring for her first World Championships singles title, Sun showcased her dominance with an 11-4, 11-7, 11-3, 11-5 triumph over Solja.
While competing in three events in Durban, Sun highlighted her main task as shifting focus between different events.
"Having participated in three events in the previous tournament, I feel I'm increasingly adapting to the pace of transitioning from one event to another," she said.
Olympic gold medalist Chen Meng demonstrated her prowess with a 4-0 victory over Thailand's Jinnipa Sawettabut, giving up a total of 12 points.
"I prepared for the challenges, especially against an opponent I met for the first time in major competitions," Chen stated.
Chinese players also excelled in doubles, with six pairs progressing to the last-16 stage.
Two-time women's doubles world champions Sun Yingsha/Wang Manyu secured a 3-0 win against Indian duo Sreeja Akula/Diya Parag Chitale. Chen Meng/Wang Yidi, a new pair, defeated Adina Diaconu/Maria Xiao with the same scoreline.
"Our synergy was slightly off at the start, but facing adversity in our first match will help us better adjust to later games," Wang Manyu expressed.
In the mixed doubles, Sun paired with Wang Chuqin to win 3-1 against Poland's Marek Badowski/Natalia Bajor. Chinese teenagers Lin Shidong and Kuai Man made further progress, defeating Slovak pair Jakub Zelinka/Tatiana Kukulkova 3-1.
In the men's doubles second round, Fan Zhendong/Wang Chuqin dominated Kirill Gerassimenko/Alan Kurmangaliyev of Kazakhstan 3-0. They were joined in the last 16 by compatriots Lin Gaoyuan/Lin Shidong, who bested Lubomir Pistej/Jakub Zelinka of Slovakia without losing a single game.
Also on Monday, Sweden's Truls Moregard, Slovenia's Darko Jorgic, and South Korean Lim Jong-hoon advanced to the men's singles last 32. German veteran Han Ying, Japan's Miu Hirano, and Chinese Taipei's Cheng I-Ching progressed to the women's singles third round.