As a diving powerhouse, China is looking forward to extending its winning streak at the upcoming Asian Games. However, divers from Malaysia, Japan, and South
Korea also stand an excellent chance to bring home medals from Hangzhou.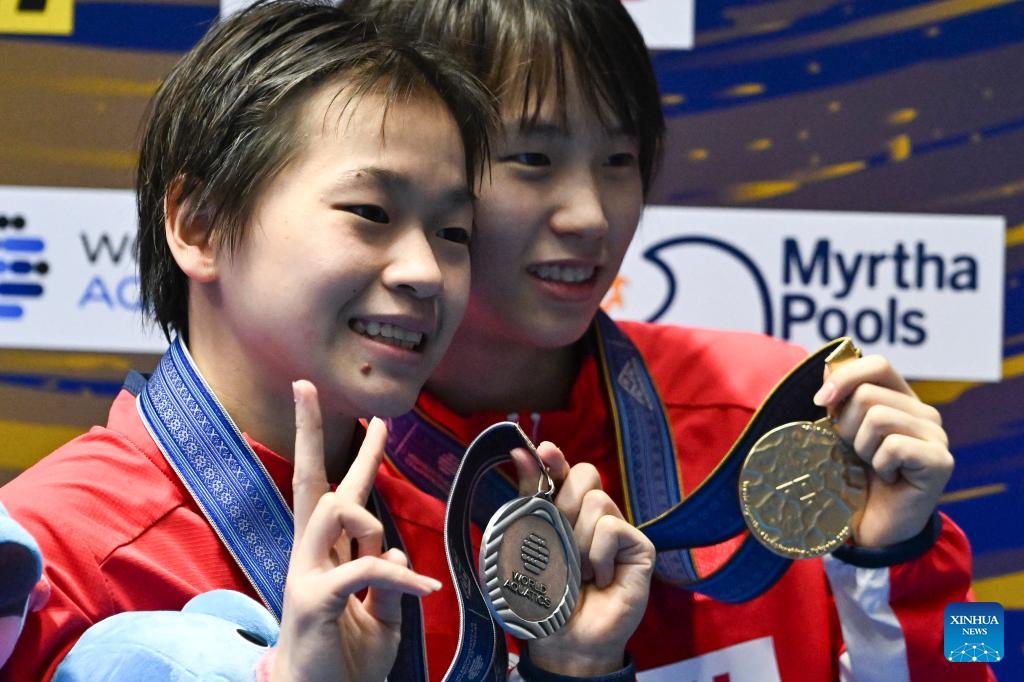 Gold medalist Chen Yuxi (R) of China and silver medalist Quan Hongchan of China pose during the awarding ceremony of women's 10m platform final of the World Aquatics Championships 2023 in Fukuoka, Japan, July 19, 2023. (Xinhua/Xu Chang)
Chinese divers have participated in the Asian Games since 1974 and won all four gold medals on offer on their debut. The team has since competed in all subsequent Asian Games, sweeping all 80 gold medals from diving events.
Spearheaded by Tokyo Olympic champions Quan Hongchan, Chen Yuxi and Wang Zongyuan, as well as world champions Chen Yiwen, Chang Yani, and Yang Hao, China is sending a 14-member squad to compete in 10 events in Hangzhou from September 30 to October 4.
17-year-old Chen Yuxi became the first diver to win the women's 10-meter platform title at three consecutive world championships after she triumphed in Fukuoka, Japan, in late July. Chen later retained her title at the World Aquatics World Cup Super Final in Berlin, Germany.
Quan, 16, a superstar in China after her perfect marks and magic victory at the Tokyo Olympic Games, had to settle for silver medals behind Chen in both Fukuoka and Berlin.
"We are partners when we compete in synchro and rivals when we battle in individual events. The most important thing is to show the best of ourselves and take glory for China in front of local fans in Hangzhou," Chen said.
World champion Chen Yiwen will aim to defend her title in the women's 3m springboard alongside Chang Yani. In the men's 3m springboard, world champion and 2020 Olympic silver medalist Wang Zongyuan will focus on both 1m and 3m individual events.
He Chao, 31, the 2015 world champion in the 3m individual and the 2014 Asian Games winner in the 1m springboard, is set to make his return in the men's 3m springboard synchro, partnering with newcomer Yan Siyu.
Yang Hao will compete in the men's 10m individual and synchro events, where he faces stiff competition from 17-year-old Rikuto Tamai of Japan, who finished second behind veteran Yang Jian at the 2021 World Championships in Budapest.
"We are not always flawless, so we need to push ourselves and compete with ourselves in every dive, every competition. Gold medals are not our goal," said Chen Ruolin, the former five-time Olympic champion and now China national team coach.