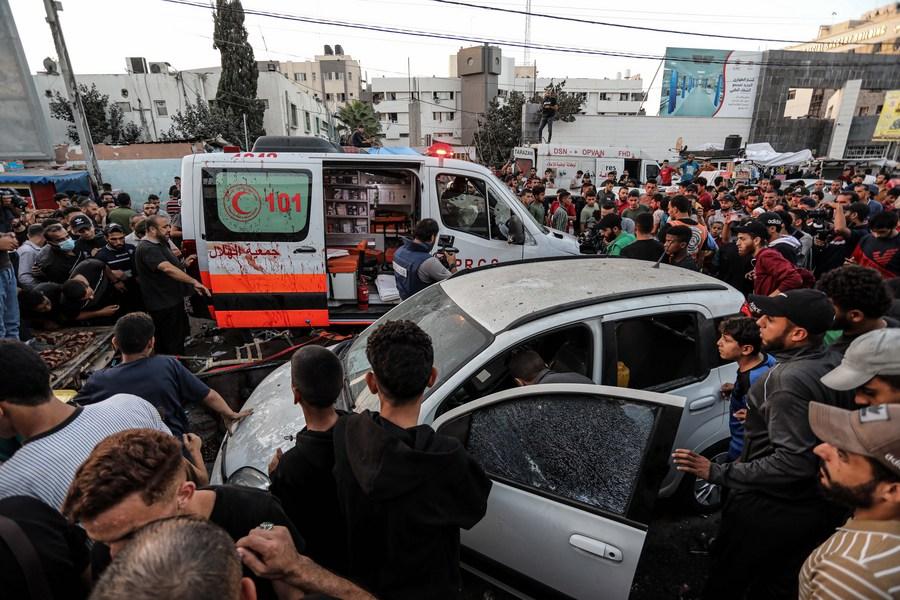 People gather around an ambulance after an Israeli warplane attacked ambulances at a gate of the Al-Shifa
Medical Complex in Gaza City, on Nov. 3, 2023. [Photo/Xinhua]
Israel Defense Forces (IDF) Spokesman Daniel Hagari said on Wednesday that IDF troops had raided Al-Shifa Medical Complex, Gaza's largest hospital, adding evidence was found there "proving beyond any doubt that Hamas operated a military command center inside."

However, video footage and photos released by the army on the social media platform X only presented some weapons and ammunition, with limited evidence suggesting the hospital housed military headquarters, contrary to Israel's repeated claims.
The photos of the findings showed rifles and rifle cartridges, vests and uniforms, shoes, and a green headband believed to be used by Hamas's military wing.
In a video released by the IDF, its spokesman Jonathan Conricus toured the hospital's MRI unit, displaying what he claimed was military equipment found there, as well as a laptop which he said provided "a lot of incriminating evidence."
The video also showed damage to the hospital building, including a completely shattered door.
In response, Hamas said the Israeli army's saying of weapons found in the Al-Shifa Complex is "a blatant lie that serves to justify its crime aimed at destroying the healthcare sector in the enclave."
The hospital director, Mohammed Abu Selmeia, told reporters that the Israeli army forces withdrew on Wednesday evening from inside Al-Shifa Complex, 16 hours after storming it, "but tanks and forces are stationed completely in its vicinity."
Earlier today, Abu Selmeia said dozens of Palestinian employees were detained by Israeli troops who entered the hospital in an alleged "targeted and precise operation" against Hamas.
Speaking to soldiers in southern Israel on Wednesday, Israeli Prime Minister Benjamin Netanyahu warned that Israel's forces might expand the fighting in the Gaza Strip from the northern part to other areas. "They told us not to enter Al-Shifa -- we entered it. It is in this spirit that we say something simple: There is no place in Gaza that we cannot reach," he said.
His warning came despite calls for a cease-fire by international humanitarian organizations and a new Qatari proposal for the release of women and children hostages in exchange for the release of Palestinian women and children prisoners held in Israel.
Also in the day, about 500 relatives of Israeli hostages continued their march from Tel Aviv to Jerusalem for the second day.
Meanwhile, Netanyahu's wife Sara urged the immediate release of hostages held in Gaza and requested the Red Cross to visit them promptly.
The spokesperson for the Qatari Foreign Ministry, Majed bin Mohammad Al Ansari, said on Wednesday that despite Qatar's efforts to mediate the release of hostages, Israel's continued bombing in the Gaza Strip complicates the efforts to rescue hostages held there.
Israel has been carrying out an all-out attack on Gaza over the past weeks and has imposed a siege on the enclave to retaliate against the Hamas attacks on southern Israel on Oct. 7, during which Hamas militants killed about 1,200 people and took more than 200 hostages. The conflict has also led to the deaths of over 11,500 Palestinians in Gaza.