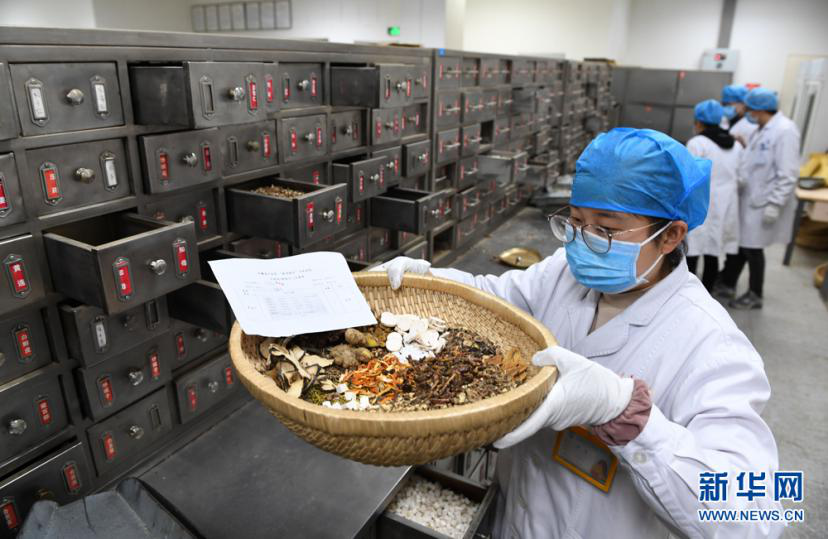 Traditional Chinese Medicine has played a significant role in the fight against the novel coronavirus and its efforts have been proved by a large number of recovered patients, a health expert revealed on Monday.
Of all the confirmed cases on Chinese mainland, 74,187 patients, or 91.5 percent, have received TCM treatment, said Yu Yanhong, Party chief of the National Administration of Traditional Chinese Medicine, at a news conference held by the State Council on Monday.
She said TCM treatment has proved to be effective in more than 90 percent of the cases, with most being reported in Central China's Hubei province, the hardest-hit region in China.
"TCM treatment could significantly relieve symptoms in COVID-19 patients while preventing those with mild symptoms from getting worse," she said. "It has been proven that TCM can improve the recovery rate while reducing the death rate effectively."
Yu, who is also an expert with the National Health Commission, revealed that a total of about 4,900 TCM doctors had joined in the battle against the virus in Hubei, accounting for 13 percent of all medical staff that support the fight in the province from other regions across the country.
"Of them, more than 100 are the country's top experts. Thanks to their efforts, especially their support at the early stage of the outbreak, the epidemic disease has been controlled soon," Yu said.
She said TCM treatment successfully reduced the pressure resulting from the shortage of medical resources and the treatment has been included in the fifth, sixth and seventh treatment guidelines provided by the commission.
Three medicines — Jinhua Qinggan Granule, Lianhua Qingwen medicine and Xuebijing Injection, have been proved effective in treating COVID-19 patients.
Also, three TCM prescriptions have been proved by clinical data to show great performance in treating infected patients, including Lung Cleansing and Detoxifying Decoction, HuaShiBaiDu Formula and XuanFeiBaiDu Granule.
"TCM is a great treasure with a long history in China. It illustrates the wisdom of Chinese people and has played a significant role in the control and prevention of infectious diseases," Yu said.
She said TCM also proved effective in treating some contagious diseases in recent years, including Severe Acute Respiratory Syndrome (SARS) and the H1N1 flu.
"Clinical data indicated that TCM can improve the human immune system and kill the virus at the same time," she said, adding that recent experience in the battle against COVID-19 again proved the effects of TCM.
"Virus is the enemy of all human beings. China is glad to strengthen international exchange and cooperation and share our experiences with all countries in need. Also, we are happy to provide consultations or other support based on our TCM treatment experience," she said.